Ras Mohamed National Park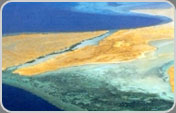 Ras Mohammed National Park, on the southern tip of the Sinai Peninsula, is Egypt's first national park. A desert plateau gives way to broad sandy beaches in some areas, and drops off into rich coral reefs in others. The boundaries of the park include a great deal of the surrounding waters of the Red Sea. The park is probably best known as one of the top diving sites in the Red Sea. The Shark and Yolanda Reefs are the most popular dive sites in the park and have an amazing array of coral and other marine life. The dry land in the park is also a part of the marine world. In the north, large dunes are interspersed with outcroppings of limestone where a variety of marine fossils are found. The dramatic promontory that marks the Sinai's southernmost tip is an enormous, fossilized coral reef, left high and dry tens of thousands of years ago. There is great diversity of wildlife in the park, ranging from gazelles in the northern desert area to brilliant orange coral groupers in the reefs. The reefs undoubtedly have the best wildlife in the park, with fire corals and sea fans among the reef corals, and a magnificent array of both reef and pelagic fish, more than 1,000 species in all. Among them are predators like barracuda and several types of shark, and giant tuna groups. Sea turtles can sometimes be seen here.

For more details ... please click here

Abu Galum Managed Resource Protected Area
Characterized by its spectacular granite mountains ending abruptly on a narrow coastal plain fronted by rich coral reefs. Abu Galum owes its Protected status to its varied ecosystems, unique back reef communities and excellent coral reefs. Recent surveys have identified 167 species of desert plants, many of which are not found in either Ras Mohamed or Nabq. As a result, Abu Galum also contains the largest number of Nubian Ibex, Hyrax, Red Fox, Striped Hyena and evidence of other mammalian species. Ten species of lizards and snakes have been identified from the Protectorate. Three of these, namely the Black Cobra, the Horned Viper, and Burton's Carpet Viper are very dangerous and visitors to the area should proceed with caution and avoid sandy areas with vegetation. Look for tracks in sandy areas. The Abu Galum Protectorate is managed to ensure that its natural resources are safeguarded from all destructive activities. As a result, diving sites and shore access points are being prepared, nature trails through mountain areas have been identified, the area is being kept clean, Bedouin fishing activities are regulated, and a visitor center is under construction.

For more details ... please click here

Nabq Managed Resource Protected Area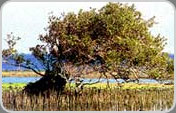 As the largest coastal Protectorate on the Gulf of Aqaba (600 kilometers squared), Nabq contains a variety of ecosystems that provide for nature viewing experiences unique in the Sinai Peninsula. The Egyptian Environmental Affairs Agency (EEAA) agreed to protect Nabq on the basis of its rich natural resource base.
These include:
The most northerly stand of mangrove trees in the Red Sea/Indian Ocean complex.
One of the largest single stands of Arak bushes in the Middle East, covering the higher dunes of the Wadi Kid alluvial fan.
134 plant species of which six are found only in Nabq
Gazelle, Nubian Ibex, Hyrax and small mammal populations.
Rich coral reef communities.
The Nature Protection Sector of the EEAA, responsible for the management and administration of all Egyptian Protected Areas, has committed itself to a program that fully integrates resident Bedouins into all aspects of its area management strategy. It is foreseen that selected Bedouin groups will provide all tourism services in the Protectorate. These will include: catering services at the visitor center, guide services, provision of camels for access to areas closed to vehicles, maintenance services, visitor interpretation, operation of camping areas, and other activities of mutual benefit.

For more details ... please click here